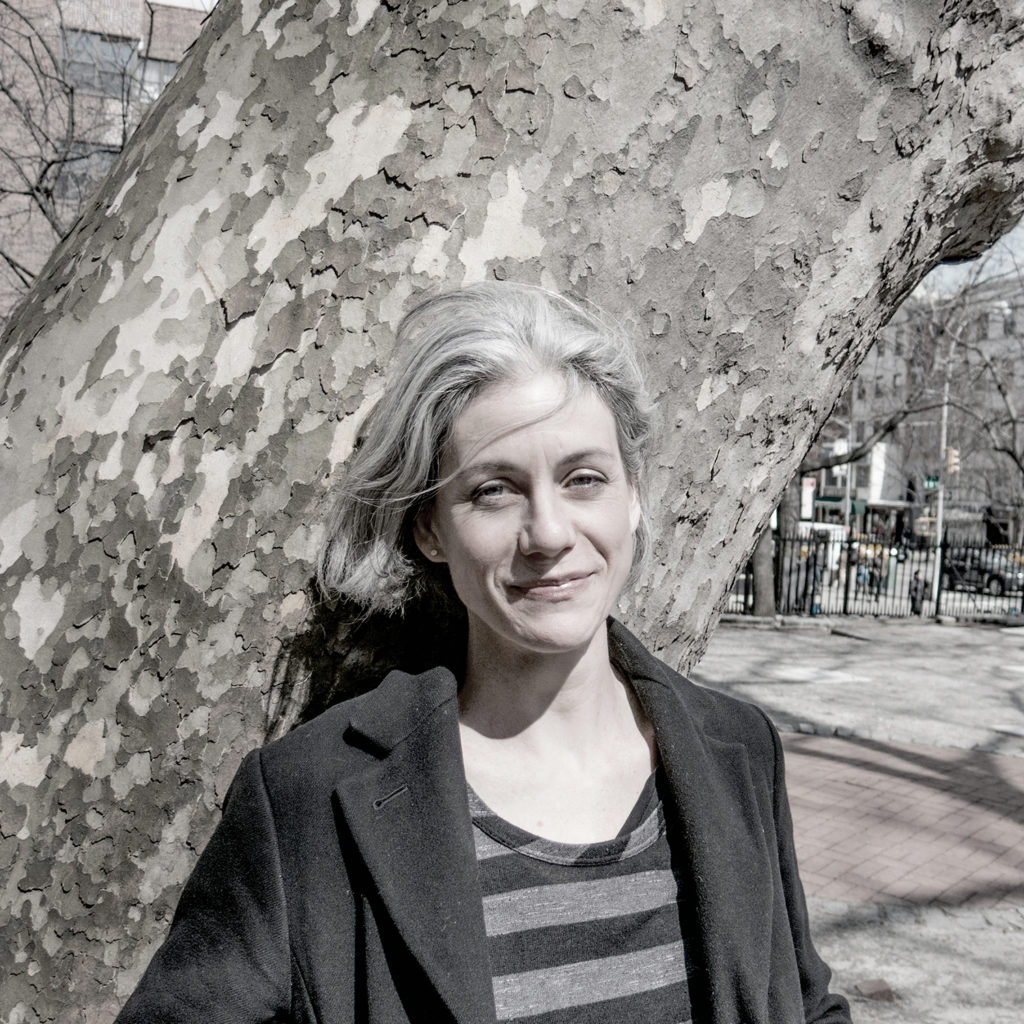 Melanie Vote grew up on a functional farm in Iowa, but has lived in NYC for over 20 years. Her work straddles these two worlds, investigating the complexities of the human-land relationship, the cyclical nature of all life, and the impossibility of permanence.
In temperate months she works remotely, painting outside. She is a visual scavenger collecting passages, then returns to the studio to reconstruct layers of a place, weaving them together into open-ended narratives.
She received her BFA from Iowa State University and her MFA in Painting from New York Academy of Art. Vote was a recipient of a Pollock‐Krasner Foundation Grant in 2007 and has been awarded many residencies including The Vermont Studio Center, Jentel in Banner, WY, AHAD in Abu Dhabi, UAE, The Grand Canyon and most recently, The Weir Farm program in CT.
Vote has taught at NYAA and NJCU, The New School and Pratt Institute. Additionally, Vote has been a visiting artist at numerous schools including the Pennsylvania Academy of Fine Art.
Her work has been exhibited nation-wide and internationally. In New York at Flowers Gallery, The Lodge Gallery, Sloan Fine Art and DFN Gallery where the she had her first solo exhibition in 2008. Additionally her work has been shown at the Indiana Contemporary Art Center, Jenkins-Johnson Gallery of CA, The Aldrich Contemporary Art Museum, with solo exhibitions at Galleria Farina in Miami and Hionas Gallery of New York, The Hangaram Art Museum in Seoul, South Korea, and at ADAH, Abu Dhabi while an artist in residence there.
Vote's most recent solo exhibition, The Washhouse, Nothing Ever Happened Here, at Equity Gallery opened March 2020.
contact: melanievote@gmail.com
CV

Born 1973 in Iowa
Lives and works in New York City
EDUCATION
M.F.A. 1998
Painting, The Graduate School of Figurative Art
New York Academy of Art, (cum laude) New York, NY
B.F.A. 1995
Art and Design, Iowa State University, Ames, IA
AWARDS – RESIDENCIES

2023 Ireland Cill Rialaig Project, Ireland (forthcoming)
2022 Weir Farms NHS, Artist in Residence, Wilton CT (forthcoming)
2019 AHAD, International Artist in Residency, KSA
2017 June, Artist in Residence, National National Park Services, Grand Canyon, AZ
2017 The New School PTF Development Fund for The Residency in the Grand Canyon.
2022-1999 Resident Artist, Clemente Soto Velez Cultural & Educational Center, NYC
2016 Pratt Faculty Development Grantee, Partial Funding for Overgrowth.
2013 AHAD, Artist in Residency, Abu Dhabi, UAE
2009 Jentel, Artist in Residency, Banner Wyoming
2007 Pollock Krasner Foundation Grant
2007 Kimmel Harding Nelson Center for the Arts, Nebraska City Residency
2003 The Rosenthal Foundation Best of Show Award, annual 54th Art of the North East, at Silvermine GuildArts Center
2002 Full Fellowship for an Artist in Residency at the Vermont Studio Center, Sponsored by the Dodge Foundation
1997 Academic Scholarship Award, New York Academy of Art
SOLO EXHIBITIONS
2020 The Washhouse, Equity Gallery, NY
2016 Overgrowth, Hionas Gallery, NY
2015 Galleria Farina, Miami Florida
2014 Looking Back, Moving Forward, Curator: Brendan Carroll, Hamilton Square, Jersey City, NJ
2013 AHAD, Abu Dhabi, UAE
2011 Traces, Hionas Gallery, New York, NY
2011 Lost and Found, Lemmerman Gallery, NJCU, Jersey City, NJ
2008 Trepidations, DFN Gallery, New York, NY
2005 Laptop Series, Realform Project Space, Curator: David Gibson Brooklyn, NY,
GROUP EXHIBITIONS
2021I'M NOT DONE WITH THAT, Artists That Refuse to Put Away Their Toys , Equity Gallery, curated by Linda Griggs New York NY
TEN the inaugural exhibition at Hionas Gallery's new space, NYC
Laura Peturson/Mitra Walter/Melanie Vote, AMZehnder Gallery, curated by Anne-Marie Zehender, Wellfleet MA
Shades of Blue: Drawings, Watercolors and Works on Paper, Equity Gallery, Portraits, Inc. and RayMar Art, curated by Michael Gormley and Patricia Watwood, New York, NY and Birmingham, AL
The Washhouse One Year Later, Equity Gallery, A socially engaged Happening/Installation in conjunction with the catalog release of The Washhouse, Nothing Ever Happened Here, Melanie Vote (2020)
2020
NYC, an online Exhibition, curated by Rick Davidman and Lisa Lebofsky of DFN Projects in collaboration with 33 Contemporary Gallery via Artsy
Biophilia, Sugarlift an Online Exhibition, New York, NY
Occupy Project, Consulate General of Greece in New York, curated by Eirini Linardaki
2019
Movie Night, Ille Arts, Curated by Rick Davidman and Sara de Luca
2018
Getting Personal, SFA Projects, Curated by Kay Sirikul Pattachote NYC
Natural Proclivities, Co-curators: Kim Power and Melanie Vote, Shirley Fiterman Art Center, BMCC, New York, NY
This Land Is… Arcadia Gallery, Culver City, CA
2017
Fun House, Galerie Protégé , Curator: Dominick Lombardi, NYC
The Palette Show, Abend Gallery, Curators: Dina Brodsky and David Ethridge, Denver Colorado
Eyes of an Artist, Panepinto Gallery, Curator: Stephanie Panepinto
2016
Modern Oracle, Trestle Projects, Curator: Melissa Staiger
The Palette Show, The Lodge Gallery, Curator: Dina Brodsky, NYC
2015
New Narratives, Storefront TenEyck, Curator: Deborah Brown, Brooklyn, NY
All|Together|Different, Manny Cantor Center, Curators: Yona Verwer, Linda Griggs, New York, NY
2014
LUCID VISIONS curated by Diana Corvelle, Cara DeAngelis and Tun Myaing, Panepinto Gallery, NJ
REAL on Rock Street, BOS, Curators: Deborah Brown & Leslie Heller, Brooklyn, NY
Human Extension, The Lodge Gallery, Curator: Amy Berger, New York, NY
2013
Body Politic, National Arts Club, Curators: Courtney Jordan and Kristin Kunc
Eye on the Storm, Rauschenberg Gallery, Curator: D Dominick Lombardi, Ft Myers Florida
2012 Korea Tomorrow, Hyper Narrative, Seoul, South Korea
2012
Year One, Hionas Gallery, New York NY
Summer Exhibition, Flowers Gallery, Curators: David Ebony, Carrie Rebora Barratt, Steven Zevitas, New York NY
The Drawing Room, Malavek Hakimi Gallery, curators: Dina Brodsky, Karl Koett, Tun Myaing, New York NY
In Their Own World, Tache' Gallery, Curated by D. Dominick Lombardi, New York NY
Toy Stories, Westport Art Center Curated by D. Dominick Lombardi, Westport CT
Love is in the Air, Curated by Michelle Doll and Island Weiss, The Cell, NYC
2011
The Longest Night, Gowanus Ballroom, Brooklyn, NY
Paintworks, Gowanus Ballroom, Brooklyn, NY
NYAA Summer Exhibition, Flowers Gallery New York, NY
2010
Draw – tour, Museo de la Ciudad de Mexico June 19 – August 15 Curators: Erik Foss and Curse Mackey – Special Guest Curator: Miguel Calderon Museum Director: Cristina Faesler.
Nature Calls, SICA, Long Branch, NJ
Just Off, Sloan Fine Art, Curators: Peter Drake and Alix Sloan, New York, NY
Looks Good on Paper, DFN Gallery, New York, NY
2009
Reconfigured & Relocated, DFN Gallery, New York, NY
2008
Dangerous Women, DFN Gallery, Curator: Julie Lohnes and John Nickel, New York, NY
Trading Places, Pro Arts/Canco Lofts, Jersey City, NJCurator: Hugo Bastidas
Small is Beautiful, Flowers Gallery, New York, NY
Becoming:Visions of Childhood, Bronfman Center Gallery, Curator:Lois Stavsky, New York,NY
The Toy Show, Hans Wiess Newspace Gallery, Curator: Susan Classen-Sullivan, Manchester,CT
Works on Paper, DFN Gallery, New York, NY
2007
Small is Beautiful, Flowers Gallery, New York, NY
Wet, DFN Gallery, New York, NY
REPRESENTATION, Jenkins Johnson Gallery, San Francisco, CA
Summer Exhibition, NYAA, Committee: Vincent Desiderio, Eric Fischl and Jenny Saville, New York, NY
The Beholders Eye, Salmagundi Art Club, Curator: Katherine Chapin New York, NY
Draw, Gallery Lombardi, Curator: Erik Foss and Curse Mackey Austin, TX
2006
The Bridge Art Fair-Other Events of Art Basel/Miami Beach, DFN Gallery Miami, FL
Palpable Painting, Kresge and Pascal Galleries Berrie Center, Ramapo College, Curator: Sydney Jenkins Ramapo, NJ
2005
10th Anniversary Show, DFN Gallery New York, NY
The Chautauqua Center for the Visual Arts, Juror: Stephen Westfall Chautauqua, NY
Night and Day, Women's Caucus for Art, Juror: Helen Cooper Fairfield, CT
2004
4 Artist/4 Walls, Interior Paintings, DFN Gallery, Curator: John Nickel New York, NY
The Drawn Page, The Hersam Acorn Newspaper and The Aldrich Contemporary Art Museum,
Curators: Harry Philbrick and Jessica Hough Ridgefield, CT
Alumni Exhibition,1st Annual Juried Exhibition for the New York Academy of Art Alumni Association,
Stricoff Fine Art New York, NY
Martha and Me, Gallery Onetwentyeight, Curator: Elisa Soliven New York, NY
NJCU Faculty Exhibition, Lemmerman Gallery, Curator: Midori Yoshimoto Jersey City, NJ
2003
Group Show, Rotunda Gallery of Jersey City, City Hall Jersey City, NJ 2003
54th Art of the Northeast, Silvermine Art Center, Juror: Harry Philbrick New Canaan, CT
Selected Works, Solo Exhibit Ground Jersey City, NJ
Convergence, NYAA Alumni Exhibition New York, NY
2000
Art at Barrow Mansion, Jersey City Art Tour, Curator: Kimberly Ewald Jersey City, NJ
Group Show, Gallery 156, Curator: Matthew Greenway Brooklyn, NY
1999
Beyond Appropriation, NYAA Alumni Exhibition, Juror: Philip Pearlstein New York, NY
1998
M.F.A. Exhibition, New York Academy of Art New York, NY
1995
B.F.A. Exhibition, ISU Fisher Theater Gallery Space Ames, IA
VISITING ARTIST LECTURES

2019 Visiting Artist/Painting Workshop, Iowa State University, Ames Iowa
2019 Keynote Speaker/Presenter, The Loess Hills Prairie Seminar, Onawa Iowa
2014 Visiting Artist/Juror, Iowa State University, Ames Iowa
2013 Visiting Artist, Philadelphia Academy of Fine Art, Philadelphia PA
2011 Visiting Artist at Fairfield University, Fairfeild CT
2009 Visiting Lecturer, Pratt-Munson Wilson Proctor, Utica NY
2008 Visiting Critic, New York Academy of Art
PROFESSIONAL EXPERIENCE
2020-2022 Adjunct, Marymount Manhattan, Courses: Figure Drawing and Painting I &II
2013-21 Adjunct, New York Academy of Art, NYC, Course: Painting III
2003-2022 Adjunct, New Jersey City University, Jersey City NJ.
Courses: Figure Painting, Principles of Painting,Drawing and Composition, Fundamentals of Painting, Portrait Painting and, Studio Painting.
2013-20 Adjunct, The New School, NYC Course: Drawing and Imaging
2013-16 Visiting Instructor, Brooklyn Campus, AOS Program at Pratt, Manhattan Campus NYC, Course: Drawing II: Figure, LCD I and II
2008-13 Assistant Adjunct Professor at York College, Jamaica, NY. Course: Painting I, II, III
2003-11 Assistant Adjunct Professor at Hofstra New College, Hempstead NY. Courses: Basic Studio, Figure Drawing, Figure Sculpture and Vision Making and Knowing
2009 Visiting Lecturer, Pratt-Munson Wilson Proctor, Utica NY
2008 Visiting Artist, NYAA, New York NY
2003 Visiting Instructor in the Pre-College Summer Program at Pratt, Manhattan Campus NYC,
Course: Fine Arts/Painting and Drawing class
2003 Adjunct Instructor at Mohawk Valley Community College, Utica, NY Figure Drawing II
2001 Instructor at NYAA in the Continuing Education Program Mural Painting Atelier
BIBLIOGRAPHY/ PRESS
2020 John Mendelsohn, d'Art International Magazine Review, The Washhouse
2019 Peter Drake, Art Pulse, Review of Natural Proclivities
2018 Mike Gusev, The Blue Review, The Blue Review, Down to Earth — on a new level, Natural Proclivities, July 2018
2016 Daniel Maidman, Growers and Makers, Huffington Post, March
ART (inter) NEW YORK : Interview– Melanie Vote by Keith Schweitzer on March 16th
Kim Power, Quantum Art Review, March
2014 Brendan Carroll, Looking Back Moving Forward, April 15th
2013 Laura Gonzalez: It Fashion Magazine, Barcelona Spain, January 9th
2011 Brendan Carroll, Interview in The Jersey Journal, March 11th
2008 Kobasa, Stephen Vincent, review with photograph, Hartford Advocate, Hartford CT, February 28th
2008 Finkelstein, Alix, review with photograph, The New York Sun, January,3rd
2005 Bannon, Anthony, review The Chautauquan Daily, Chautauqua, New York, Weekend Edition, July 9th
2005 Wiley, Lois,Erie Show Case, exhibition review with photograph, Chautauqua, New York, July 7th
CONFERENCES
College Art Association Conference, 2011, New York, New York
College Art Association Conference, 2007, New York, New York
College Art Association Conference, 2003, New York, New York
College Art Association Conference, 2002, Philadelphia, PA
AFFILIATIONS
College Art Association
Alumni Association of the New York Academy of Art
SaveSave
SaveSave
SaveSave
SaveSave